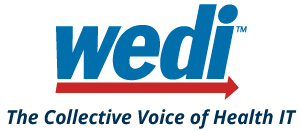 Solving Health Care's Most Pressing Issues…
WEDI's mission is to serve as an industry convener and provide multi-stakeholder leadership and guidance to the nation's health care system on how to leverage the industry's collective technology, knowledge, expertise, and information resources to improve the efficiency, quality and cost effectiveness of health care information.
Today, the association boasts a membership of nearly 250 organizations, representing every sector across the health care spectrum – physicians, hospitals, laboratories, payers, vendors and government regulators.
WEDI provides insightful and timely educational programming tailored specifically to meet the needs of health care IT executives, managers, and other related professionals.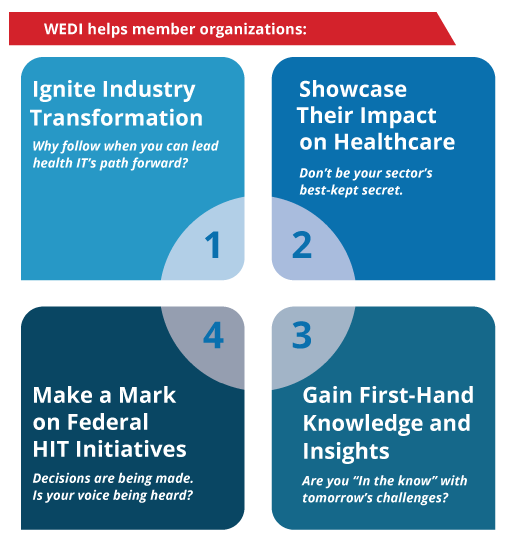 How Do You Describe the Value of WEDI Membership?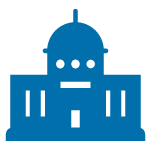 Government Entities
"WEDI is a valued advisor, helping to shape
and guide our policies."

Providers
"WEDI accepts my guidance and
perspectives as an industry leader."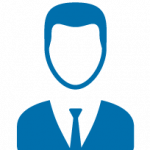 Payers
"WEDI helps me to adopt to a constantly
evolving health IT landscape."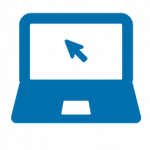 Health IT Vendors

"WEDI gives me exclusive access to
my most relevant prospects."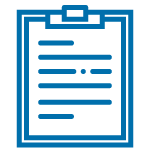 Consultants
"WEDI increases my stature as
an industry problem solver."


Consumers
"WEDI collaborates with those in power
to deliver lower cost high quality care."

Member Benefits
Influence the direction of health IT policy through participation in WEDI workgroups, public forums and industry commentaries

Benefit from WEDI education and instructional materials that share the latest HIT updates

Earn preferred member discounts for all WEDI conferences and events

Network with decision-makers and game-changers across government, payer, provider and vendor organizations to augment your professional development and industry influence

Access whitepapers and issue brief to help you understand and adapt to new regulations and a changing business environment

Receive news bulletins, industry commentary, newsletters and updates on regulatory, legislative and standards changes that affect your business

Showcase your organization's accomplishments through industry-wide distribution outlets

Build your organization's reputation and take advantage of opportunities for well-deserved awards and recognition by your peers

Gain visibility for your organization through recognition on the WEDI website

Complimentary access to monthly members-only webinars

Grow your network with WEDI's Corporate directory

Share your organization's voice through WEDI's Policy Advisory Groups (PAGs) and Technical Advisory Committees

Complimentary access to all WEDI webinars
Premium Benefits
Access and leverage exclusive, Premier-level only events with industry decision-makers and thought leaders

Sponsor and moderate webinar

Gain complimentary exhibit space at WEDI conferences

Participate in a Company Spotlight article, disseminated through WEDI distribution channels and promoted on WEDI website

Earn discounts on sponsored webinars, whitepapers, banner ads and offerings

Gain free registration passes to any WEDI event

Gain access to WEDI's Policy Advisory Groups that provide recommendations on HHS regulations (single vote per event)
WEDI's Annual Membership dues are based on the type of company and gross annual revenue. As WEDI looks to reflect changes in the industry, we have expanded our dues categories into two additional ones to mirror the rapid growth of organizations within the healthcare industry.
*Must be employed solely by a state or federal agency (i.e. Department of Health and Human services)