WEDI elects Laurie Darst as board chair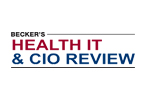 The Workgroup for Electronic Data Interchange named Laurie Darst chair of its board of directors. Ms. Darst is a regulatory advisor for the department of finance at Rochester, Minn.-based Mayo Clinic.
Ms. Darst's primary focus at Mayo includes HIPAA compliance for electronic transactions, regulatory administrative simplification mandates as well as trends affecting revenue cycle management. She participates in several national standard setting organizations including the National Uniform Claim Committee and National Uniform Billing Committee.
To read more, visit Becker's Hospital Review.