WEDI is Proud to Support the Annual National Health IT Week!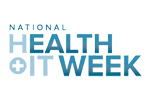 This October, WEDI — as an advocate for the advancement of health information technology to help improve healthcare — is a Proud Partner in National Health IT Week. National Health IT Week is an awareness week offering all healthcare stakeholders an opportunity to unite under one banner, expressing the benefits that health information technology (IT) brings to U.S. healthcare. Join us in support of this nationwide awareness week focused on catalyzing change for the U.S. healthcare system. There is no better time for the health IT community to come together under one umbrella to raise national awareness!
For more information, visit NHITWeek.