WEDI Provides Comments on CMS and ONC Implementing Final Provisions of the 21st Century Cures Act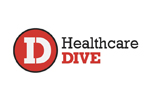 WEDI, the nation's leading nonprofit authority on the use of health IT to create efficiencies in health care information exchange and a statutory advisor to the U.S. Department of Health and Human Services (HHS), today issued a statement on behalf of its President and CEO, Charles Stellar. The following remarks are in response to the release of the final rules by Centers for Medicare & Medicaid Services' (CMS) and the Office of the National Coordinator (ONC) for Health Information Technology on Interoperability, Information Blocking, and the ONC Health IT Certification Program as mandated by the 21st Century Cures Act.
To read the full article, visit Healthcare Dive.