COVID-19 Update from WEDI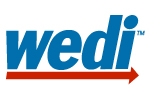 Following discussions with our board, our members and fellow stakeholders, along with closely monitoring the latest developments and adhering to guidance from the US Centers for Disease Control and Prevention (CDC) and the World Health Organization (WHO), WEDI has made the decision to postpone our in-person WEDI 2020 Conference scheduled for May 4-7 in San Diego, CA.
The health and safety of our members, industry colleagues and the general public is and will continue to be our top priority. That's why, with recent travel advisories issued by federal and state health departments, recommendations from CDC to limit large group gatherings and to practice social distancing, along with international and domestic travel restrictions instilled at our member organizations, delaying the event is the right decision in an effort to limit the continuing spread of COVID-19 at this time.
As our industry navigates this evolving public health situation that is impacting us all, WEDI remains committed to our mission of delivering education and innovation on health IT to leading health plans, providers, vendors and government agencies.
To those who have registered to attend WEDI 2020, we appreciate your patience as we monitored the ongoing worldwide situation.  We will be contacting you to discuss the next steps.   Our education committee has been discussing virtual conferencing programming of portions of the program during the May 4-7 timeframe and offering other parts of the conference agenda at the WEDI Forum taking place in early August.
To all of our stakeholders including attendees, speakers and sponsors, we thank you for your patience as we sorted out our decision to postpone the in-person conference.  We look forward to your participation in our virtual programming and in-person event later on this summer so as to not lose momentum and valuable content as the nation deals with this serious public health issue.  More details on the revised programming will be posted.
Thank you.