WEDI 2021 focuses on burden reduction, health equity, compliance driven innovation, patient driven value and data driven care.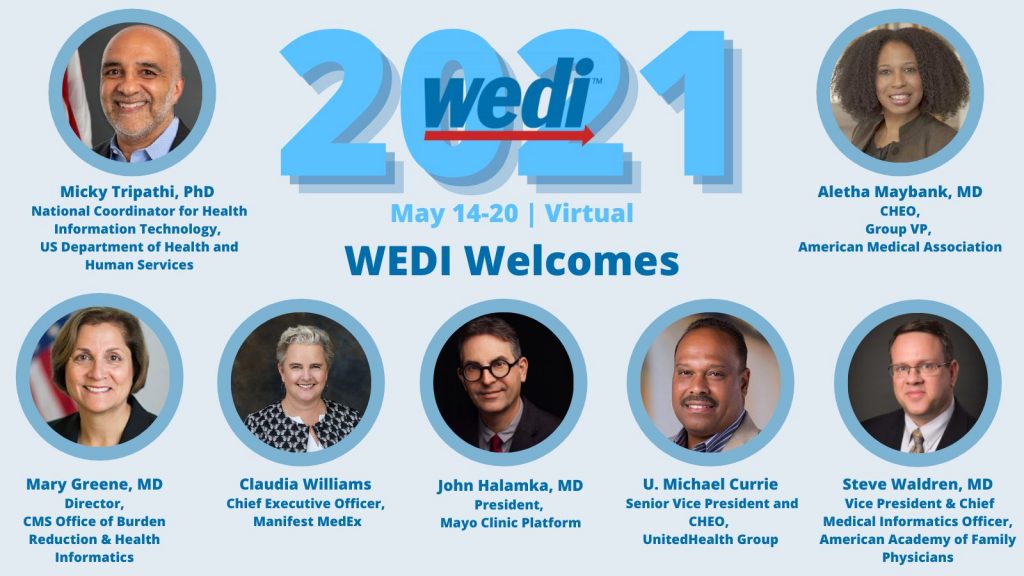 Quality Measures and Gaps in Care
Time: 11:00am- 12:00pm EST
Gini McGlothin, Senior Quality Management Analyst, Blue Cross and Blue Shield of Alabama
Linda Michaelsen, Director of Healthcare Interoperability Standards, Optum
Time: 12:00- 12:45pm EST
Riki Merrick, Lead Specialist, Informatics Technology, Vernetzt
Eric Haas, President, Health eData Inc
Time: 12:45pm – 2:00pm EST
Mark Scrimshire, Chief Interoperability Officer, Onyx Health,
Nick Radov, Senior Principal Engineer, UnitedHealthcare
Payal Desai, Product Owner, UnitedHealthcare
Keynote: Micky Tripathi, PhD, National Coordinator for Health IT, Office of the National Coordinator (ONC)
Time: 10:30 – 11:00am EST
Mary Greene, MD, Director, CMS Office of Burden Reduction & Health Informatics
Time: 11:00- 11:30am EST
Demystifying the 3rd Party Application- An Interoperability and Patient Access API Workshop
Time: 11:30 - 12:15pm EST
Ruby Raley, Axway
Jennifer Blumenthal, OneRecord
Wanted: Chief Burden Reduction Officers
Time: 12:45 - 1:15pm EST
Claudia Williams, CEO, Manifest MedEx
The Emergence of Digital Identity in Health Care
Time: 1:45pm- 2:30pm EST
Ryan Howells, CARIN Alliance
An Overview of Popular Value Based Care Models
Time: 3:00 - 3:45pm EST
Adele Allison, Strategic Business Consultant
John Kelly, Principal Business Advisor, Edifecs
Surveying the Federal Legislative and Regulatory Landscape
Time: 11:00 - 11:30am EST
Robert Tennant, WEDI Vice President, Federal Affairs
Can Artificial Intelligence Help Reduce Administrative Hassles in the Doctor's Office?
Time: 11:30 - 12:15pm EST
Steve Waldren, MD, VP, CMIO, American Academy of Family Physicians
Making Progress on the Provider Directory API Requirement
Time: 1:30 - 2:15pm EST
Craig Behm, Maryland Executive Director, CRISP
Mrinal Bhasker, Founding Partner, Leap Point, Strategic Technology Advisor, CRISP
Policy Solutions to Improve Health Data Exchange
Time: 3:00 - 3:45pm EST
Molly Murray, Officer, Health IT, Pew Charitable Trusts
Keynote: Addressing Artificial Intelligence Equity
Time: 10:30 - 11:00am EST
John Halamka, MD, President, Mayo Clinic Platform
Chief Health Equity Officer Leadership; A Conversation
Time: 11:00 - 11:45am EST
Aletha Maybank, MD, CHEO, Group VP, American Medical Association
U. Michael Currie, Senior Vice President and CHEO, UnitedHealth Group
Nancy Spector, Coding and HIT Advocacy Director, American Medical Association (Moderator)
Closing the Loop; Epic EHR Health Equity Initiatives
Time: 11:45 - 12:30pm EST
Seth Howard, Product Development Lead, Epic
The Evolution of App Developer Portals; A Demo
Time: 1:30 - 2:15pm EST
The New Health App Economy
Time: 2:15 - 3:00pm EST
Aneesh Chopra, Care Journey
Understanding the No Surprises Act and its Implications for the Industry
Time: 3:00 - 4:00pm EST
Matthew Albright, Chief Legislative Affairs Officers, Zelis Payments
Stanley Nachimson, Principal, Nachimson Advisors
Beth Davis, Senior Manager, Payerpath Operation
Robert Tennant, VP, Federal Affairs, WEDI (Moderator)
Thank you to our Corporate Sponsors for their support!